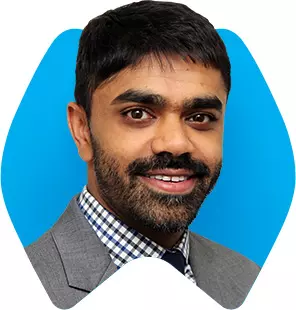 Get to Know Our Tarrytown Orthodontist
Dr. Rishi Kothari grew up in Western New York and is proud to be back serving the community he has always called home. With his mother being an orthodontist for more than 30 years, Dr. Kothari developed an appreciation and passion for orthodontics at a very young age. After the transformation of his own smile, along with those of his close friends and family, Dr. Kothari decided to pursue a career in orthodontics.
After graduating top 10 in his class from Allegany-Limestone High School, Dr. Kothari attended New York University, where he majored in psychology and minored in music and chemistry. It was there that he helped conduct a teeth whitening study at the NYU College of Dentistry and truly gained an appreciation for smile esthetics.
Following his graduation from NYU, Dr. Kothari received his doctorate in dental surgery from The State University of New York at Buffalo, School of Dental Medicine. Dr. Kothari scored well enough to earn a highly competitive residency position at the Jacksonville University School of Orthodontics, fulfilling his career dream of becoming an orthodontist and opening a practice in his home state of NY.
Dr. Kothari is an active member of the American Association of Orthodontics, American Dental Association, New York State Dental Association, and the Ninth District Dental Society. On days he is not in the office, Dr. Kothari can be found at The NYU Langone Medical Center, where he enjoys teaching residents and working with underserved children. He also loves spending quality time with his family and friends, traveling, and trying new foods and restaurants. Dr. Kothari is an avid soccer fan and you can often find him kicking the ball around in the park. However, his biggest passion is music, which he both loves to listen to and play.
At 914 Smiles, Dr. Kothari aims to provide high quality orthodontic care, utilizing the most up-to-date in cutting-edge technology. He has experience speaking English, Spanish, and Gujarati, which allows him to cater to patients from diverse cultural backgrounds. Dr. Kothari's top priority is to give patients the smile they've always wanted, but his goals are about much more than that. He is set on making each office visit a positive experience and building relationships with his patients and their loved ones. Dr. Kothari provides beautiful and healthy smiles to the residents of Sleepy Hollow, Tarrytown, Briarcliff, Ossining, Ardsley, Pleasantville, Irvington, Dobbs Ferry, and Hawthorne, NY.